Birmingham is bursting with cocktail bars for your next night out. Here we pick our top five.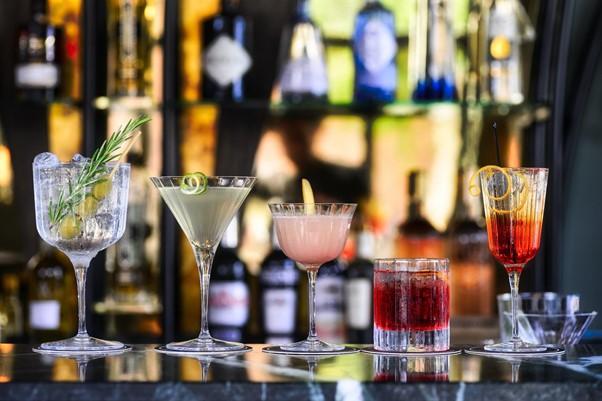 When you think of Private Investigators what do you think of? A dark figure following from a distance? A full Sherlock Holmes deerstalker and pipe outfit? Or perhaps the life of a PI is more akin to that of spies and MI5 in your mind?
Whilst the life of a Reveal PI is considerably less action-packed than that of James Bond, the world-famous spy's love of a cocktail, shaken not stirred of course, is something we can get on board with.
Nothing beats that first sweet sip of a cocktail on a night out. Whether you opt for a fruity daiquiri or a classic martini, a traditional old fashioned or a long island iced tea with a twist; cocktails are perfect for any occasion.
If you're heading out in Birmingham and fancy a cocktail (or three) then you're in luck. The city is bursting with choice when it comes to cocktail bars offering up traditional mixes and more modern alternatives.
To make planning your next night out easier we've selected our top five cocktail bars in Birmingham where you'll be sure to find your cocktail of choice.
Olivia's Townhouse
Olivia's Townhouse claims to be "Birmingham's best cocktail bar" and for good reason. Perfect for a quick after work drink with colleagues on a Friday night or to celebrate a special occasion with friends and family, Olivia's has a relaxed yet stylish vibe.
If you want to make it a night to remember you can book a VIP booth whilst live music and entertainment acts run every weekend.
It's the cocktails though that really make Olivia's Townhouse stand out from the crowd. With classic vodka and gin based options as well as seasonal slushed drinks, everyone is sure to find something that appeals.
Olivia's Townhouse are famous across the city for their pink gin tree which is exactly what it sounds like, a tree of pink gins and their Gang Bang, 9 pornstar martinis and a bottle of prosecco, proves popular with groups.
If you're looking for a cocktail to get the party started that will also look great on your Instagram feed then The Glitter Ball combines vodka and pick 'n' mix sweets in your very own disco ball.
You'll find Olivia's Townhouse in The Arcadian Centre.
Dirty Martini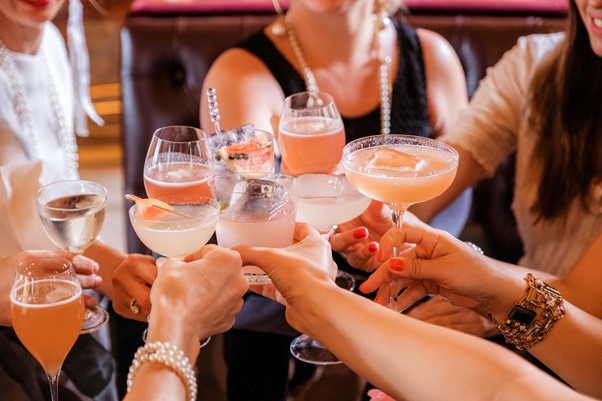 You can find Dirty Martini venues across the country but the Birmingham bar is the place to be for a weekend cocktail.
With the capacity to greet over 300 people across two floors (plus a mezzanine) there are a variety of table options available including booths and banquets.
Located in the city centre, Dirty Martini is the perfect starting point for a night in Birmingham but with an extensive cocktail menu, you may decide to stay here all night long!
Featuring classic cocktails such as bellinis and an old fashioned, Dirty Martini offer various bespoke cocktail combinations such as mango & chilli and melon & mint.
If you're partial to an espresso martini then you're in luck with over 6 variations available on the menu whilst groups will enjoy the Neon Angel Wing sharer featuring 8 individual martinis.
For those who would prefer an alcohol-free version there's also an extensive selection of mocktails available. If you're celebrating a special occasion there are various celebration packages on offer.
Dirty Martini is located on Bennetts Hill.
Bourne & Co. Cocktails
Bourne & Co. Cocktails is located in Birmingham's historic jewellery quarter and entering this bar is like taking a step back in time.
Specialising in vintage-inspired cocktails, Bourne & Co. split their menu into three different categories: The Golden Age, Prohibition and Tikis. You can also treat yourself to a variety of champagne cocktails if you fancy a spot of fizz.
Prohibition is the name of the game here and a 1920's/30's theme runs throughout the bar. If you want to learn more about the individual cocktails on offer then the bar staff will be more than happy to take you through the history of your drink of choice, just ask!
Fans of hit BBC drama Peaky Blinders are sure to enjoy it as often the bar will introduce a new themed cocktail in honour of Birmingham's most famous fictional character, Tommy Shelby.
The bar has also recently introduced bar snacks and a special tasting menu meaning you can enjoy the speakeasy style venue without risking a rumbling tummy.
The Botanist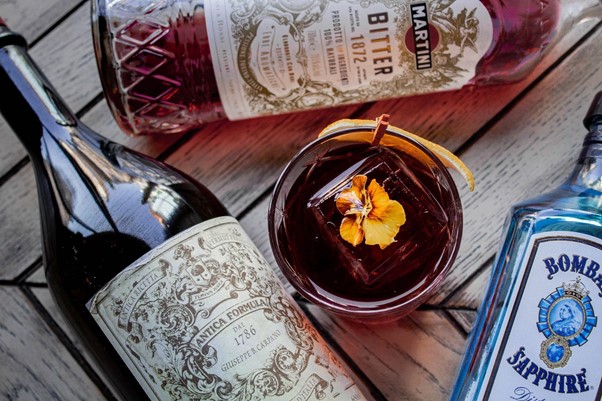 If you want your cocktail to not only taste good but to also look great on your Instagram feed then The Botanist is the place to go.
The Botanist, like the name suggests, specialises in cocktails with a horticultural twist and you shouldn't be surprised if you find some edible dried flowers or greenery floating in your drink.
Many of the bars cocktails are served in alternatives to a traditional drinking glass meaning you can expect to be served your cocktail of choice in anything from a test tube to a flower pot. They also have an array of "smoked" cocktails on the menu created with the nineties party staple, dry ice.
The bar normally has live music every night to keep you entertained and menu highlights include herbaceous twists on classic cocktails including Rhubarb and Sage Spritz and Strawberry and Basil Mojito.
You'll also find an extensive food menu inspired by the rotisserie and BBQ to take your pick from.
The Botanist is located in Birmingham city centre on Temple street.
Pineapple Club
Pineapple Club is located in the heart of Great Western Arcade and combines classic cocktails, funky interiors and craft beer to make it the ideal place to spend an evening.
If you head down Tuesday-Thursday you can join in with the Paella Party where the club brings a taste of Columbia to the streets of Birmingham.
You'll never get bored of paying a return visit either as the bar changes their cocktail menu every six months, choosing a different concept each time. If you find a favourite tipple make the most of it though, as there's no guarantee it will return.
If you're ready to take your cocktail sampling seriously then the bar offers a classic bottomless brunch option and if you enjoy one of the drinks featuring their signature Pineapple and Mango Gin Liquor then you can purchase a bottle to take home with you. We can't promise that you'll be able to mix a cocktail as well as their expert bar team though.
Birmingham's Five Best Cocktail Bars: Summary
Birmingham's array of cocktail bars have something to offer everyone whether you're partial to a traditional mix or prefer a modern twist. Whether you're looking for a relaxed mid-week drink or the perfect venue for weekend celebrations, this list is sure to have what you're looking for.
What Service Does a Good Test Purchaser Provide?
With customers and tourists making a comeback to your local store, hiring a Test Purchaser can help you ensure that your business maintains the same high-quality service you've provided customers during pre-pandemic years.
Based on the guidelines, Test Purchasers mirror typical consumer behaviour to test the consistency of a business, whether it is retail or food-related. They assess customer service and store presentation, product quality, selling techniques, cleanliness, and promotional material.
Here at Reveal PI we know how important it is to let your hair down every once in a while and Birmingham's cocktail bars are the perfect place to do so. Hiring a Test Purchaser for commercial or personal use can ensure that you get access to establishments that provide quality service for you and your guests' safety.
Ever considered hiring a private investigator in the UK? Call Reveal PI Today at 0330 808 9344 or visit 11 St Paul's Square, Birmingham, West Midlands B3 1RB.